Adult Ministries
Our Adult Ministries reflect our lifelong journey as Orthodox Christians, and are based on the same four elements of our Youth Ministries: Worship, Fellowship, Service, and Witness. The Orthodox approach is sacramentally-based, since our lives as Orthodox Christians are "...shaped, nourished, and enriched by the liturgy or worship of the Church." (Fr. A. Calivas, "The Sacramental Life of the Orthodox Church")
Adult education is offered in the weekly Adult Discussion Group and Tuesday Morning Men's Group. Opportunities for group fellowship are offered through Golden Years (Senior Citizens group), Warm Up America (Ladies' Knitting group), and the various parish and outreach service projects throughout the year.
---
Sunday Fellowship Hour
Sunday fellowship hour is offered each week after the Divine Liturgy, to foster friendship and to welcome visitors to our community. Church organizations, families, and individuals are encouraged to sponsor a fellowship hour. To schedule a Sunday fellowship hour, please call the church office.
---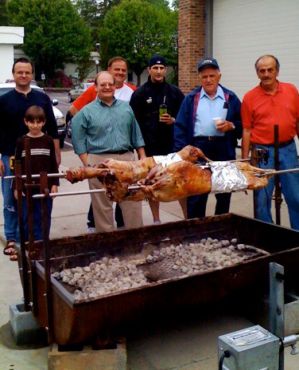 Other Fellowship Opportunities
Community Picnic - Mid September
Athenian Night- Later September
New Years Eve Dinner Dance
Vasilopeta Philoptochos Luncheon- Mid January
March 25th Luncheon & Celebration
Community Easter Picnic
Greek Festival - Mid May
Community Golf Tournament - Late May